The theme for the blog hop this week is three things you don't know about me.
1. I have strange sleeping issues. It can't be completely quiet it or it takes me forever to get to sleep. I have to sleep on the side of the bed that is farthest from the door to our room. Since we moved our bed to facing the wall with the bathroom door I have to close the bathroom door so I don't wake up and look in the bathroom mirror. The biggest thing is, my husband says I have to have more pillows than a Sears store to sleep, but actually I only have to 3 most of the time.
2. I am trying to recover from my packrat/clutter filled ways. We have lived here for over 5 years and I have never put my car in the van because there is too much stuff in there. We spent all day Saturday going through the garage and basement storage area and I surprised myself by being able to let go of tons of stuff. Now if we can't get it in a garage sale in the next couple of weeks I agreed to let hubby take it to Goodwill.
3. I believe in love at first sight. I met my husband when I was 14 years old when he drove up in my driveway to pick up my friends boyfriend (who was his friend). As soon as I laid eyes on him I felt something change in me. Unfortunately he had a girlfriend and I had to settle for being his friend. Luckily for me he eventually (2 years) came around to my way of thinking and now I am blessed to have him as my wonderful hubby for almost 18 years.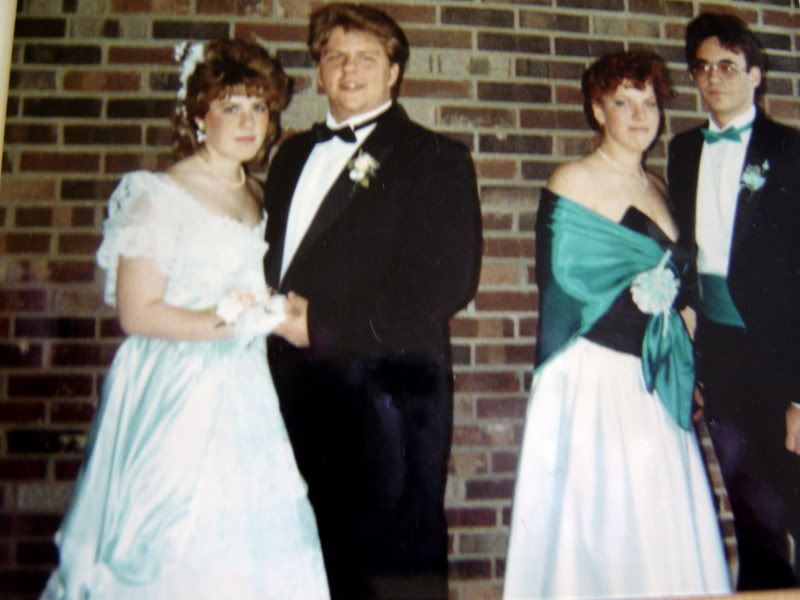 Here we are a few months after we met. I wound up dating his friend and we double dated to his senior prom, me with his friend and him with his then girlfriend. I am on the far left and he is on the far right.