[caption id="" align="alignnone" width="399" caption="Brenna with Monkey Joe"]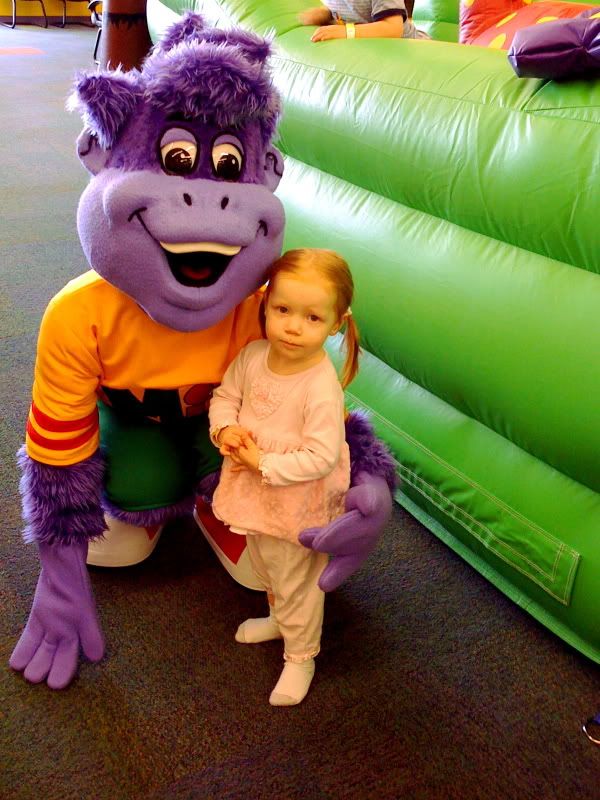 [/caption]
We got to try out a new inflatable play land called
Monkey Joes
on Friday. This place is awesome. It is just for the under 12 crowd and the staff at our closest location was amazing. One of the attendents met our kids at the door and said "Come on lets play" and they took off running for the back, even Brenna tried to keep up. We caught up with them in the back on a giant dual slide and the attendent was racing my kids down the slides. They were thrilled. Brenna made friends with a wonderful girl worked there named Trevae who assisted Brenna through every single inflatable at least 3 times. Trevae was awesome and Brenna was thrilled, whenever Brenna would take a break she would look around and say "Where my friend?" Then she would go off looking for Trevae again.
[caption id="" align="alignnone" width="422" caption="Brenna and her friend take on another inflatable"]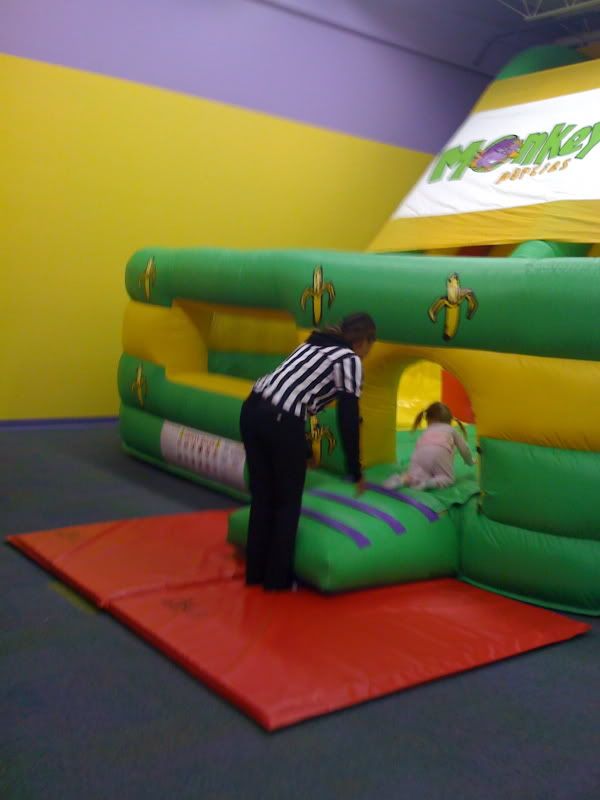 [/caption]
With 4 kids running in different directions it got kind of hard to keep up with all of them at the same time. I would go looking for one of them and often find them racing one of the attendents through one obstacle or down the slides with the biggest smiles on their faces. The management came through often asking how things were and if we needed anything. At one point I went looking for Landon who I hadn't seen and bumped in to a manager, he asked how things were I said great just looking for one of the kids. He said he could get some staff to help me I said I am sure he is happily playing. He then said "let me know if we can help" It was so wonderful to not be worried about the kids, to know that they aren't getting trampled by big kids, that the staff really do care about their jobs and the kids.
They even have an area designated for the 3 and under crowd and they did a good job making sure the older kids weren't in there unless they were assisting a sibling. Wubba loved the baby land. We would squeal with delight as soon as we put him in to play
[caption id="" align="alignnone" width="444" caption="Wubba happy as a clam in the under the sea inflatable"]
[/caption]
Liam is so good at helping the little kids at place like this. He loved getting in to play with Wubba. I am often surprised by this side of him because a lot of time he hardly pays them any attention at all but every once in awhile he will surprise us and be so great with them. He loved showing Wubba around and helping him experience all the sea creatures.
[caption id="" align="alignnone" width="441" caption="Riding the snail or is it a turtle?"]
[/caption]
Alexis was going almost the whole time we were there. We often found her sitting looking tired but when we asked her if she was tired she would say no and take off again. They all loved this giant circular trampoline like inflatable. Brenna would just run in circles. The other would bounce like crazy, towards the end they would lean on the sides and Jason would bump the side and send them crashing back and they would laugh and laugh and climb up to do it again.
[caption id="" align="alignnone" width="441" caption="Lexi spinning in the big trampoline."]
[/caption]
Landon loved the obstacle course inflatable.
[caption id="" align="alignnone" width="453" caption="Landon climbs the end of the obstacle course"]
[/caption]
And I can't leave out my wonderful honey. The man that makes the money so we can go to crazy places like Monkey Joes. My love and DaDee to the herd
[caption id="" align="alignnone" width="462" caption="DaDee is tired after 4 hours at Monkey Joes"]
[/caption]
It was an awesome evening. They spent 4 hours jumping and running and thankfully even slept in the next morning. We loved it so much we bought the pass so we can go back again soon. Thanks Monkey Joes for a wonderful time, we will be back soon.